ISSN: 1139-8736
Depósito Legal: B-37271-2002
Copyright: &copy Silvia Montero Martínez
---
5.3.3.17 HAVE-NEOPLASM_LATERALITY: unilateral/bilateral /trilateral
El atributo LATERALITY (LITERAL-DISEASE-EVENT-ATTRIBUTE) se ha añadido para estructurar aquellos FT que indican cuántos lados o unidades de aquellos órganos o partes del cuerpo que presentan dos o más divisiones (cavidad nasal, pulmones, huesos, senos, etc.) están afectados por el proceso neoplásico. La definición se ha formulado de la siguiente manera:
Classification of DISEASE-EVENTs originating or affecting one, two or three sides of a BODY-PART in unilateral, bilateral and trilateral.
Los tipos de formalización terminográfica del esquema son los siguientes: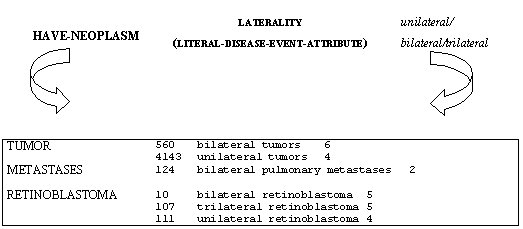 Tabla 5.37: HAVE-NEOPLASM_LATERALITY
La estructura sintáctica de los FT, como en muchos otros casos, es del tipo adjetivo + nombre ('bilateral tumors') y no existen formalizaciones alternativas a los valores unilateral, bilateral y trilateral, que aparecen en 'bilateral retinoblastoma', 'unilateral retinoblastoma' y 'trilateral retinoblastoma', respectivamente.
---
Índice general I Índice Capítulo 5 I Siguiente
---
ISSN: 1139-8736
Depósito Legal: B-37271-2002
Copyright: &copy Silvia Montero Martínez