ISSN: 1139-8736
Depósito Legal: B-37271-2002
Copyright: &copy Silvia Montero Martínez
---
5.3.3.26 HAVE-NEOPLASM_FREQUENCY-RATE: %
El atributo escalar FREQUENCY-RATE (SCALAR-DISEASE-EVENT-ATTRIBUTE) ya se había añadido a la ontología de MikroKosmos con la siguiente definición:
Scalar quantification of the number of new cases of a DISEASE-EVENT that occur in a population divided by a unit of time, usually a year.
Como se puede observar en la tabla 5.46, en nuestro corpus el concepto de FREQUENCY-RATE se formaliza con mayor frecuencia como 'incidence' que como 'frequency'. Sin embargo, hemos decidido mantener el nombre original del atributo dado que no plantéa ningún problema de comprensión.
El esquema cuenta con formalizaciones como: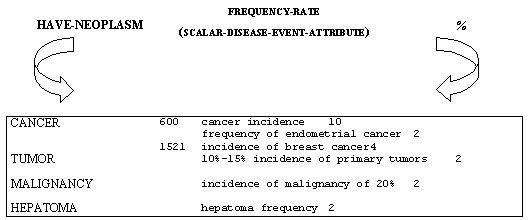 Tabla 5.46: HAVE-NEOPLASM_FREQUENCY-RATE (SCALAR-DISEASE-EVENT-ATTRIBUTE)
Como se puede observar en la tabla, de nuevo nos encontramos con FT pertenecientes a este esquema que no incluyen los valores del atributo ('hepatoma frequency', 'cancer incidence'), ya que éstos pueden aparecer más allá de nuestro horizonte colocacional o estar implícitos en el significado global del texto. Las estructuras sintácticas que presentan estas unidades son las siguientes:
(126)
a. HAVE-NEOPLASM FREQUENCY-RATE

'cancer incidence', 'hepatoma frequency'
b. FREQUENCY-RATE of HAVE-NEOPLASM

'frequency of endometrial cancer', 'incidence of breast cancer'
En aquellos casos en que aparecen los valores del atributo, los FT muestran estructuras de dos tipos:
(127) a. FREQUENCY-RATE of HAVE-NEOPLASM

'10%-15% incidence of primary tumors'
b. FREQUENCY-RATE of HAVE-NEOPLASM of %

'incidence of malignancy of 20%'

---
Índice general I Índice Capítulo 5 I Siguiente
---
ISSN: 1139-8736
Depósito Legal: B-37271-2002
Copyright: &copy Silvia Montero Martínez