ISSN: 1139-8736
Depósito Legal: B-37271-2002
Copyright: &copy Silvia Montero Martínez
---
5.3.3.22 HAVE-NEOPLASM_SURVIVAL-RATE: %
El atributo escalar SURVIVAL-RATE (SCALAR-DISEASE-EVENT-ATTRIBUTE) se define como:
Scalar quantification of the proportion of PATIENTs still alive among those DIAGNOSED-WITH a DISEASE-EVENT after a specified time period.
Los ejemplos que hemos englobado bajo este esquema frasémico son: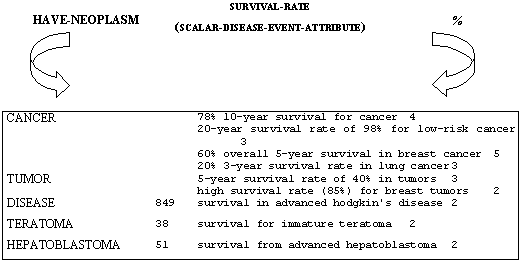 Tabla 5.42: HAVE-NEOPLASM_SURVIVAL-RATE (SCALAR-DISEASE-EVENT-ATTRIBUTE)
Como se puede observar en la tabla, nos hemos encontrado ejemplos de FT que no incluyen los valores del atributo SURVIVAL-RATE. Éste es el caso de 'survival in advanced hodgkin's disease', 'survival for inmature teratoma' y 'survival from advanced hepatoblastoma'. A excepción de estos FT, la mayor parte de los ejemplos de la tabla incluyen varios atributos, por ejemplo, SURVIVAL-RATE + SURVIVAL-DURATION en el caso de '78% 10-year survival for cancer', un fenómeno que se da en muchos de los frasemas extraídos y que da lugar a la recursividad (§5.1). Centrándonos en el atributo que nos ocupa, SURVIVAL-RATE, se pueden observar formalizaciones con distintas estructuras sintácticas:
(122)
a. SURVIVAL-RATE for HAVE-NEOPLASM

'78% survival for cancer'
b. SURVIVAL-RATE in HAVE-NEOPLASM

'60% survival in breast cancer', '20% survival rate in lung cancer'
c. SURVIVAL-RATE of % for HAVE-NEOPLASM

'survival rate of 98% for low-risk cancer'
Finalmente, bajo este esquema frasémico también habría que incluir el ejemplo 'high survival rate (85%) for breast tumors' en el que se formalizan un valor escalar del atributo SURVIVAL-RATE (85%) y un valor literal del mismo ('high'). A continuación ilustramos el atributo SURVIVAL-RATE desde la perspectiva literal.
---
Índice general I Índice Capítulo 5 I Siguiente
---
ISSN: 1139-8736
Depósito Legal: B-37271-2002
Copyright: &copy Silvia Montero Martínez